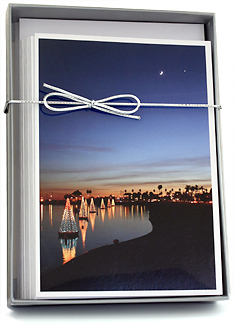 The Christmas Spirit in Long Beach
The city tradition of putting wooden frames on the water and decorating them with electric lights for Christmas dates to 1953. The first ones were in Alamitos Bay along the Peninsula, but they now appear throughout the bay, at Colorado Lagoon in Belmont Heights, and at Rainbow Lagoon Downtown.
This year you can share the spirit of "Trees on the Bay" with friends and loved ones. Send them these unique greeting cards printed with a photo of the trees along Bayshore Drive, the moon, and Venus on a chilly December evening. Inside the card is the simple message "Happy Holidays" in a festive font face.
Keep a card for yourself; these are fine prints with exceptional detail, and at 4 x 6 inches, they will fit standard size frames.
This photograph by Matt Carroll was the cover of the December 2009 issue of Long Beach Magazine. View more of his Long Beach photographs here.
Box of 10 folded greeting cards and envelopes
4 x 6 inches
$17.95
Cards shipped the next business day. Satisfaction guaranteed or your money back.